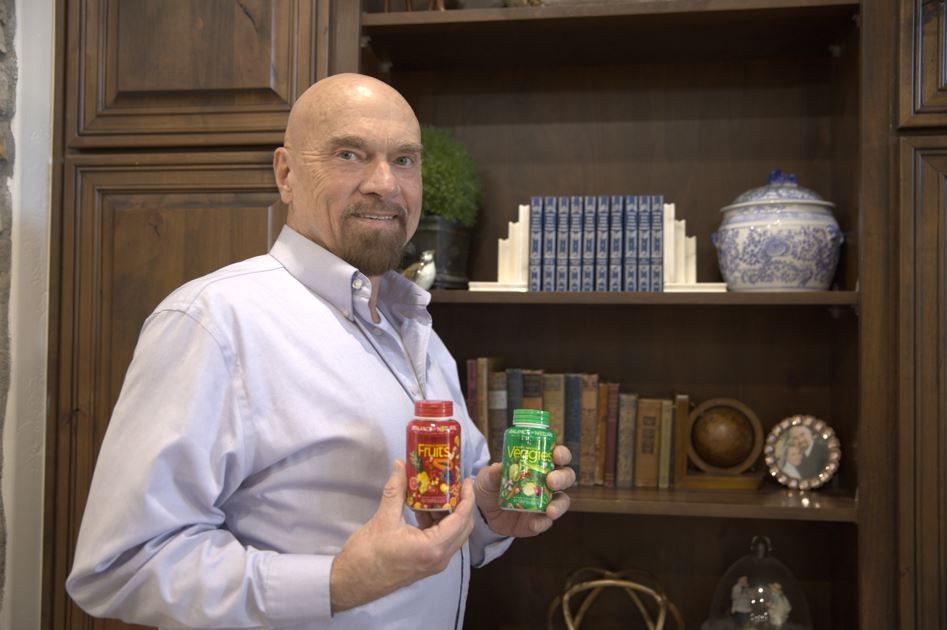 Success Story: As a Nutritionist, Vince Believes in Balance of Nature
Balance of Nature customer Vince C. has been practicing nutrition and dietetics for 30 years, but his interest in food and cooking began much earlier. Being the oldest sibling, Vince had to learn to cook at an early age. He knew he wanted to be a nutritionist when he took his first food and nutrition course in college. "That's when I realized this is what I want to do for the rest of my life," he says. He even did nutrition work and nutrition counseling with the Army.
Vince Knows Fruits and Vegetables
As a nutritionist, Vince understands the importance of fruits and vegetables. "There are pigments, colorings in fruits and vegetables that are extremely important to your health," he explains. "Matter of fact, this is one of the reasons I became interested in Balance of Nature because recent scientific studies have shown that particular pigments . . . like xanthines are very important for your health."
Vince says the busyness of life can make it harder to eat right. "What I realized as a nutritionist is that I was trying to get all my fruits and vegetables in, but you know how life just moves in and you're busy with so many things, and . . . I would just forget to eat," he says. "So all of a sudden it's the end of the day and I haven't had my fruits and vegetables. So that's when I realized, I think a lot of people are in that situation."
As a nutritionist, Vince believes people should get all the nutrition they can from their diet and should eat the correct amounts of foods, but he also realizes that is sometimes very difficult to do. "So, if you can't do that . . . certain [products] such as Balance of Nature are very important."
He Experiences the Balance of Nature Difference
Vince started taking Balance of Nature last year. A friend introduced Vince to the product. "When they showed me the product and I looked on the back, I said, 'Wait a minute, this is really good. If you don't want it, I'll take it,'" he shares. "So they gave it to me, and I started taking it, and I started feeling good."
He continues, "When I looked at the ingredients of Balance of Nature, I could see that it was what I had been missing in my diet—what I would have liked to have received had I not been so busy with life activities."
Vince says he later stopped taking it for a while but noticed he didn't have as much energy as before. "So I went back on it, and there was a difference," he says. "So that's when I thought, okay, there's something about this [product] that I need to tell the world about, so here I am."
After about a week of taking Balance of Nature, Vince was getting up earlier, feeling better, and exercising with more energy.
Vince shared that the main difference after taking Balance of Nature for a while was that one morning he woke up at 5:30 a.m. and felt energetic! "I am not a morning person. Okay, I got up, I studied, I went about doing things that I don't normally do that early," he shares. "And it didn't just stop there. It kept going on day after day after day. And I kept thinking to myself, wow, something has really changed in me because I don't like mornings, but I'm able to operate physically, emotionally, and even to some degree spiritually . . . because I have more energy now."
Be Like Vince: Eat More Fruits and Vegetables!
Vince explains that one of the reasons people are told to eat so many fruits and vegetables is not only because of the vitamins and minerals within them, but also because of the pigmentation that you get from them, such as cryptoxanthins. To find out more about these pigments, which we call phytonutrients or phytochemicals, read our article all about phytonutrients!
Vince says he'd recommend Balance of Nature because he finds that people don't get enough servings of fruits and vegetables.
"For most Americans, in my opinion as a nutritionist and based on my experience with interviewing people over many years, in most cases, no, we don't get enough fruits and vegetables," he explains. "So we're not only denying ourselves those vitamins and minerals that come from those dietary sources . . . we're also cutting out the pigments that are also important to our health."
His Passion for Teaching Nutrition
Vince says one thing he learned throughout his career is "the fact that you can know a lot about something and still not be able to teach it to other people."
"What I've found is if you're going to be in the medical or allied health field and you're trying to get information across to people to help them understand what is best to them, you have to come from their perspective," he explains. "That was one of the reasons that I got a doctorate degree in adult education, because most of my patients were adults. If you know how someone learns, you understand how to help them the best way." This insight helped him throughout his career.
Vince began his nutrition degree after he received a master's in nutrition and passed the national registration test. He started out doing counseling with hospital patients. After that, he began teaching part time in colleges and got a commission with the Army Reserve as a nutrition officer, helping veterans and their dependents who were serving. He eventually went into managing clinical nutrition services. It was then that Vince felt he needed to get his doctorate to help him understand the people he was working with, so he got a doctorate in adult education, which helped him convey his knowledge better to others.
"I learned that if you understand how an individual learns, you're able to understand how to help them in the best way, how they acquire information. That helps you as a nutrition educator to convey the information in a way that they would understand."
Vince is now retired but continues to teach nutrition and education courses at several different colleges.
Being a Grandparent Requires Energy
Vince has hobbies he enjoys outside of work, too. He enjoys music composition, the theater, and being a grandpa. "I do enjoy my family a lot. Now that I am a grandfather, I have to have a lot of energy for my grandchildren. Of course, that's what I like about Balance of Nature; it's one of the things that has given me more energy," he says. He and his grandchildren often hike, go look at Indian hieroglyphs, or climb together.
"When my grandchildren come to visit, I have to be active, because they are active," he says. "Usually, we try to get things that we can do together as far as hiking, even with music . . . in cooking food, in a number of different things that require me to go beyond what I feel like I need to at times physically."
"When you have more energy, you feel like you have more to offer. And I think that's part of being happy as a human being. It's not just receiving; it's being able to offer something and make a change in people's lives. So I feel like, because of Balance of Nature, that is one thing, one important component of my life, that helps me to have more of that energy and makes it possible for me to offer more to those around me that need my help."
Take Balance of Nature to Support Your Healthy Eating Like Vince
Vince recommends Balance of Nature to those who need help eating more fruits and vegetables. "As a nutritionist, of course, I feel that it's important to get as much as you can—vitamins, minerals, pigments, things of those natures—it's important to get as much as that from your diet," he says. "But if you cannot eat healthy foods as recommended, or you don't get as many healthy foods in your diet as you should, I think Balance of Nature would be imperative for you to have, particularly if you're leaving out fruits and vegetables."
He adds, "I think Balance of Nature is a great product. I fully endorse it as a supplement to a healthy diet."
"I can say for [me], because I am past 65, I feel like [Balance of Nature] gave me more energy, and that was something that I desperately need," Vince says. "If you have more energy, you have time to be more of a grandfather, a husband, a father—you're able to interact more with people around you and, if you feel better, I think you're able to make a more positive influence on those around you."
If you also struggle with getting enough fruits and vegetables in your diet or could use more energy, try Balance of Nature! Visit BalanceofNature.com to learn more.